this is sad. prayers to the family
Timeline of events
2:20 a.m.: 911 call from Walmart employee about drunk man wandering around the store
2:21 a.m.: Officers are dispatched
2:29 a.m.: First officer arrives
2:44 a.m.: Officer is pronounced dead
---
Dispatched to an intoxicated man at Walmart early Friday morning, the officer was the first to arrive nine minutes after the call came out.
The suspect immediately started fighting with the officer, pulled out a semiautomatic pistol and shot him at point blank in the neck area, according to Acevedo.
The officer was able to radio for help, saying he had been shot. Another officer arrived and took the suspect into custody after Walmart employees were able to take him down and disarm him.
The officer began administering CPR to the fallen officer.
"Despite the valiant efforts of our officer who started CPR, and EMS, the officer succumb to his injury and was pronounced at the scene at 2:44 a.m.," said Acevedo.
The officer's name has not been released because they are waiting to make sure family in San Angelo has been notified of his death.
Police have a suspect in custody, though charges are pending.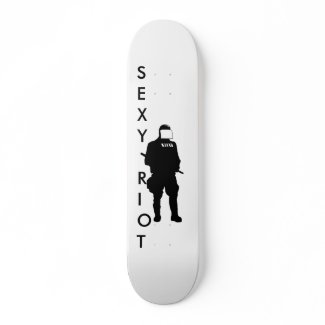 sexycop1224, SEXYRIOT
by
thepman
Create unique
custom skateboards
on zazzle.